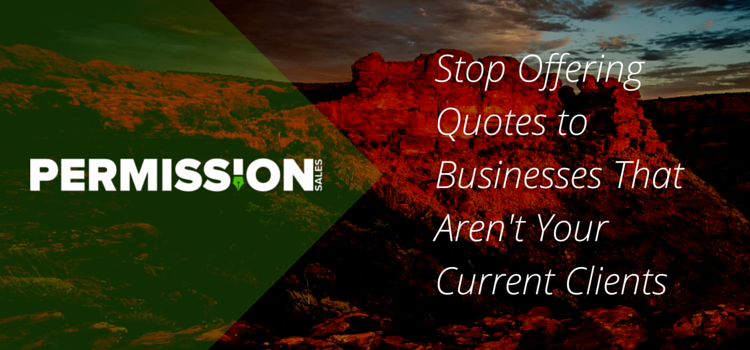 Let's set the stage by starting out with something both eye-opening and controversial, shall we?
Many of the "old school" producers in your office might label what I'm about to tell you as a load of hog wash, but I'm here to convince you that it's significantly more important to your sales success than you might imagine.
In fact, I'm personally convinced that this faulty mindset is the main obstacle keeping you from finally achieving that coveted milestone in the insurance sales industry: The $1,000,000 Book of Business.
If you would simply commit yourself to doing exactly what I'm about to teach you now, it would unquestionably set you on the trajectory toward massive success in your insurance sales career.
So…what is my eye-opening and controversial piece of advice?
Here it is:
Stop offering renewal quotes to any business that is NOT your current client!
That's right, just stop offering quotes to businesses that aren't yet one of your clients. Don't offer another quote to any business or any insurance buyer who has not already given you their express and written PERMISSION to represent them to the insurance marketplace as a whole.
In other words, unless the insurance buyer is willing to give you a signed Broker of Record (B.O.R.) letter, appointing you as their exclusive agent to any (and every) insurance carrier in the industry, don't do anything.
That's it. Just stop offering quotes, starting right now.
Don't gather any loss runs.

Don't make copies of any Declarations pages from their policies.

Don't ask any CFO's what gross sales or payroll figures they want to use for their renewals.
Both simply and politely, excuse yourself from the competitive bid arrangement and don't do anything further in the process until you get that insured to know you, to like you, and to trust you…to the point of collecting their John Hancock on a Broker of Record letter.
(PS: You can thank me later for this, as this one change in your prospecting of new business will save you hundreds of wasted hours over the course of your insurance sales career.)
COMMENT BELOW: Have you experienced any success by NOT quoting renewals and requesting a signed Broker of Record letter instead?