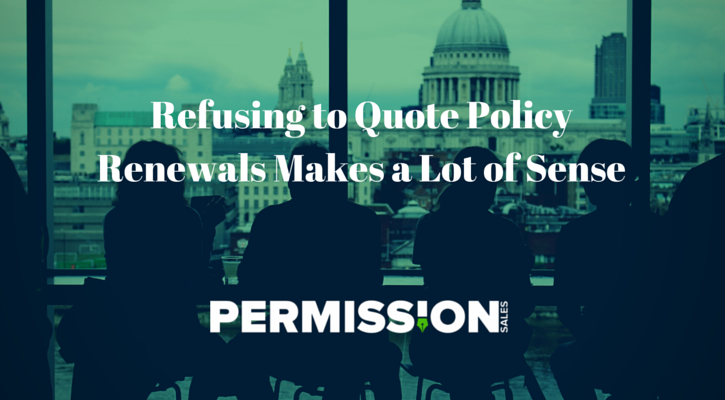 Like most of you (and precisely like most other brand new insurance agents as well), I started out my own sales career by grabbing a telephone book and calling on business owners to see if I could offer a quote on their upcoming renewals.
(As if "offering a quote" was somehow the end goal in mind.)
It was purely a "numbers game" for me at first. The reason for that "selling by the numbers" mindset was because that's how nearly every other producer in my hometown was accustomed to selling insurance.
It was the status quo for insurance producers back then. Frankly, it still is the status quo for most insurance producers today.
If that old school mindset happens to also be your current mindset for prospecting new business, you will waste countless hours every month "quoting on renewals" that you'll never actually win.
Countless hours of driving
Loss runs & claims data collection
Putting together Acord applications and supplemental questionnaires
Meetings with your CSR and the marketing department personnel
Loss control and job site visits
Negotiating terms & conditions with underwriters again and again and again
Preparing glossy proposals
Driving to and meeting with the insured (again and again and again) to go over your coverages, your exclusions, your carrier's AM Best ratings, and everything else attached to your proposed quotes
Not to mention the stressful hours sitting by the telephone waiting to hear whether or not they'll "go with you"
What a waste of time! Do yourself a favor and stop that nonsense once and for all. Just don't offer quotes to any business owner who is not your current client. It really is that simple and straight forward.
One of the most profitable things that I (and all of the million-dollar-book producers I've interviewed as well) ever did was to simply stop quoting insurance renewals altogether.
I would prospect new business like I usually did, but in most cases I simply chose not to offer quotes on renewals in a competitive bid arrangement. Unless I had access to a closed program that couldn't be beat on either price or coverage, choosing not to "quote" was the best decision I ever made. If I ever did break that one golden rule of mine for prospecting new business, I usually regretted it in the end.
It is rather empowering to behold the expression of bewilderment on an insured's face when you let them know you don't offer quotes on insurance renewals, and that you're really not interested in quoting theirs, either. They're so amazed at that.
(PS: They also tend to be quite impressed by that decision as well.)
I was able to set myself apart from the competition due to that firm stance alone. I would politely and courteously inform the business owner that I didn't need to "practice" quoting because I already had the answers they were looking for. I would then open my binder and outline the prescribed answers I had to their problems and frustrations, show them the visual timeline of services I would guarantee it all to occur within, and openly disclose my proposed fee structure (commission and/or broker fees) to make it happen.
My intent was to smother and overwhelm the insurance buyer with jaw-dropping honesty, uncompromising transparency, and incontrovertible strategy. Essentially, my goal in not quoting their insurance renewals was to get the insured to sit up and take notice of the VALUE that I was suggesting to them, having now completely removed the barrier of a competitive bid relationship by willingly choosing not to offer a "quote."
What I did was offer my services as the buyer's insurance partner, rather than simply another insurance agent off the street who did little more than bother them a couple of months before their annual renewal date.
SUMMARY: You can do this as well!
Refusing to offer offer quotes for a non-client is one leg to the four-legged stool of the fastest, smartest, most ethical approach to building a $1,000,000 Book of Business.