Hello, my name is Charles Specht and I'm the CEO of Permission Group Inc., where I work with cutting-edge Insurance Agents and savvy Business Owners as:
"Your Guide to a More Profitable Renewal"
---
---
Background & Sales Credentials
After graduating from Carthage College in 1997 with a Bachelor of Arts in Psychology, I accepted my first post-graduate position with Transworld Systems, Inc. (via Credit Management Systems, Inc.), which is one of the world's largest international debt management firms. Based out of Beverly Hills, California, I was soon promoted to Assistant Branch Manager and was a top ten producing manager for the corporation after just one year. During my tenure at CMS, I earned my Certified Debt Arbitrator designation through the International Association of Professional Debt Arbitrators.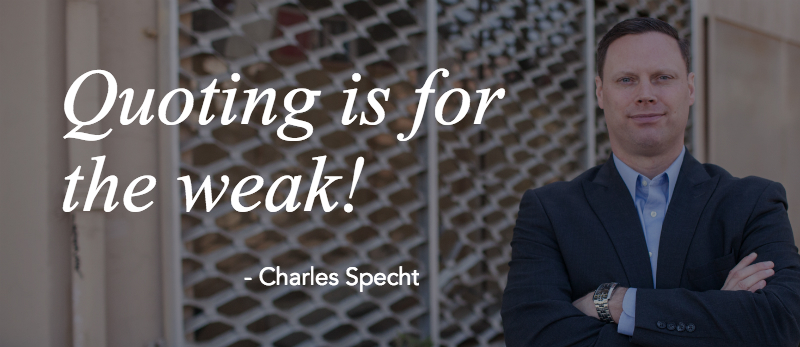 I then began my insurance career in 2000 as a very "green" Property & Casualty producer, accepting a position with InterWest Insurance Services, LLC, a highly reputable and well-managed regional brokerage firm located in central California.
I initially focused on writing small subcontractor accounts, as that was what most of the other producers in that particular sales office wrote. I obtained thirty (30) new clients and booked $135,000 of new business commission during my first fourteen (14) months at that agency, but my average annual revenue/commission—per account—was only around $4,500.
Although it was one of the better "first years" a brand new agent ever had at that particular profit center, that production model simply wasn't sustainable for the long-term results I was hoping to achieve.
I eventually left InterWest (on good terms, I might add) and accepted a sales position with Arthur J. Gallagher & Company.
It was at Gallagher that my eyes were opened to an entirely different approach to consultative sales. I began to understand the importance of "micro niche" specialization, to be perceived as an "expert" in the specialized micro-industry of my prospective client, to pursue much larger revenue generating accounts, and to focus on gaining the client's PERMISSION before ever putting together an Acord application.
The result? I obtained fifteen (15) new clients and wrote $375,000 of new business revenue in my first nine months, without "bringing over" any of my prior clients to Gallagher.
Year #1
:
30 new clients

$135,000 of new business revenue

$4,500 annualized revenue per account.
Year #2
:
15 new clients

$375,000 of new business revenue

$25,000 annualized revenue per account.
After a few more years at Gallagher, I earned my Certified Insurance Counselor designation, was eventually promoted to Area Vice President, and—between the two agencies—built a personal book of business of just over $1,000,000 in annual revenue.
During that time, I secured the PERMISSION from the Board of Directors for three different national homogeneous industry associations. I was endorsed as the sole insurance liaison for each association and even assisted with the creation of an entirely new insurance product for one of them.
However, in early 2010, I accepted a part-time, bivocational pastoral position at a small Baptist church. Because I could no longer devote myself to insurance production for Gallagher on a full-time basis, I chose to leave Gallagher (on good terms, I might add), exiting the brokerage/placement side of the insurance industry altogether. Soon thereafter, I established Constructive Risk, an unbiased and wholly independent, fee-based consulting firm that both educates commercial insurance buyers and manages their renewal bid strategies.

One thing I didn't expect when transitioning from a broker to an independent consultant at Constructive Risk was discovering how poorly trained many of my client's insurance brokers/agents were—not specifically in product knowledge, but certainly in regards to sales technique. Frankly, some of my client's incumbent agents were the most lackadaisical salespeople I've ever met. (By that I mean if another of my client's other insurance policies didn't fall into the agent's lap, the agent never asked for more of my client's business!)
Moreover, too many of the "competing" agents were either rude, scared, or unsure of exactly what value they brought to the table, and nearly all were just "playing the quoting game" and not winning in the end.
It was around that time I began seeing the "deep hole" in the marketplace for intelligent insurance sales training, strategic sales technique, and approaches to the sales process that would actually gain the insured's trust and PERMISSION, ultimately leading to gathering signatures on Broker of Record letters.
I then began coaching individual brokers and agents in my own personal sales process, conducting both on-site and off-site seminars for multiple insurance producers, and sculpting insurance sales training programs for individual agencies.

Some of what I do here at PermissionSales.com is teach insurance agents what worked (and what didn't work) for me as a producer when I built my own book of business to over $1,000,000. However, I also teach what I've learned while being contracted as an unbiased, independent risk management consultant to the insurance buyer directly (Constructive Risk). The wealth of tips, knowledge, and psychology I gained from sitting on that side of the "sales table" (the client's side of the sales process), is truly what I believe matters most in today's insurance sales cycle.
As an insurance producer, I once thought I understood what insurance buyers truly and honestly wanted from their agent, as well as why and how they chose their current agent. But I was mistaken on many key aspects.
Now, as an unbiased, wholly independent consultant who has worked side-by-side with multiple insurance buyers, I've come to a much better understanding of what commercial insurance buyers truly want from their agent.
Insurance Agents   Business Owners
——————————————————–
Contact me directly to schedule a free consultation.