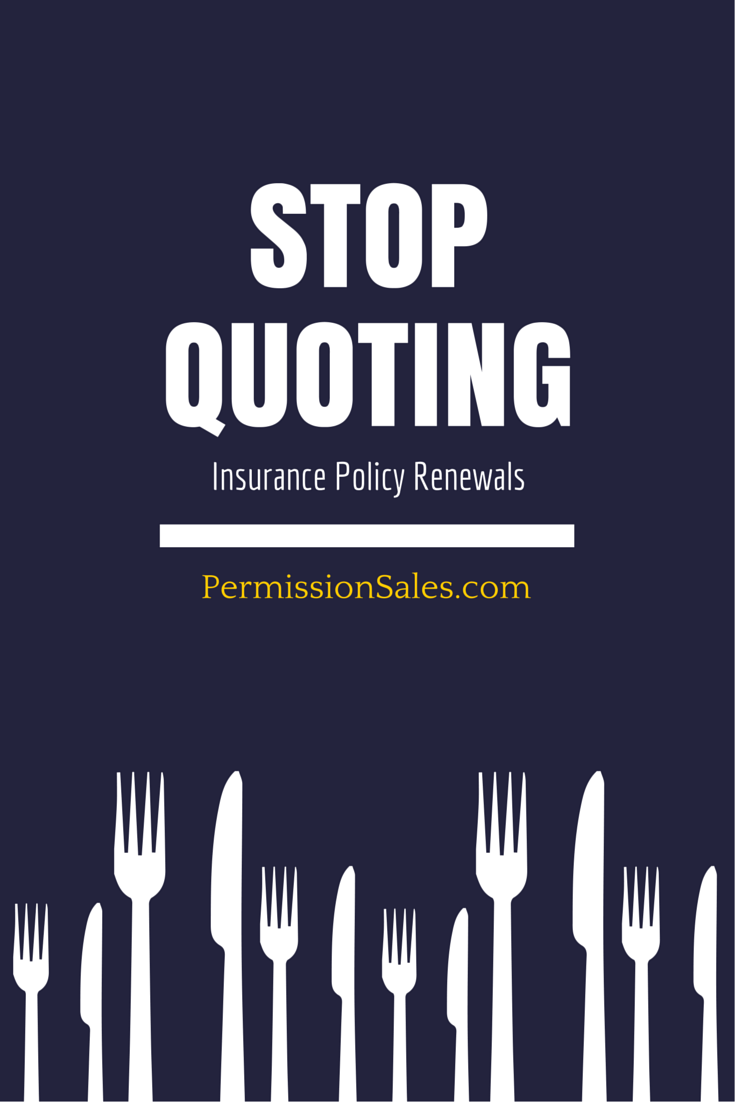 Most insurance agents start out quoting insurance policy renewals the same way…
Like most brand new insurance agents, I began my insurance sales career by grabbing a telephone book and calling business owners to see if I could offer a quote on their upcoming renewals. It was purely a "numbers game" at first. The reason for this "selling by numbers" mindset was because that's how nearly every other producer in town was accustomed to selling insurance.
It was the status quo for insurance sales.
Stop Quoting Insurance Policy Renewals
If that mindset is also your current status quo, you will waste countless hours every month "quoting on renewals" that you'll never actually win.
Hours of driving

Loss runs & claims data collection

Putting together Acord applications and supplemental questionnaires

Loss control and job site visits

Negotiating terms & conditions with underwriters for ONLY quotes

Preparing glossy proposals

Meeting with the insured (again and again and again) to go over your quote

Not to mention hours sitting by the telephone waiting to hear whether or not they'll "go with you"

Etc, etc, etc.
What a waste of your hours and the hours of your support staff!
One of the most profitable things that I (and so many other smarter-than-me producers as well) ever did was to simply stop quoting insurance renewals altogether. I would prospect like I usually did, but in most cases I simply chose not to offer quotes on renewals in a competitive bid arrangement. Unless I had access to a closed program that couldn't be beat on either price or coverage, choosing not to "quote" was the best decision I ever made.
And if I ever did break that unwritten "no quoting" rule of mine, I usually regretted it in the end.
It's quite interesting to see the expression on an insured's face when you let them know you don't quote insurance, and you're not really interested in quoting theirs, either. They're so amazed at that!
I was able to set myself apart from the competition simply due to that firm stance alone. I would–quite courteously, of course–inform the business owner that I didn't need to "practice" quoting because I already had the answers they were looking for. I would then outline the answers I had to their problems and frustrations, explain the timeline of services I would guarantee it all to occur within, and openly share my proposed fee structure to make it happen.
My role in not quoting their insurance renewals was to get the insured to understand the VALUE I was suggesting to them.
UNDERSTAND THIS…
Insurance buyers absolutely hate bidding out their insurance every year, or even multiple times per year for each policy.
It's confusing to the average non-insurance person, very frustrating, and quite expensive. Most insurance buyers would much rather trust one insurance producer who knows what she's doing, give her PERMISSION to access all the carriers, and sign over their insurance to her via a Broker of Record letter.
Your job, as the insurance producer, is to provide value, offer solutions to the insured's problems, and collect signed broker of record letters. Period.
SUMMARY: Stop quoting on the renewals of business owners who don't know, like, or fully trust you. Spend the hours you'll save by differentiating yourself in the marketplace as a problem solver in the insured's micro niche. That's part of the fastest, smartest, most ethical approach to building a $1,000,000 book of business.